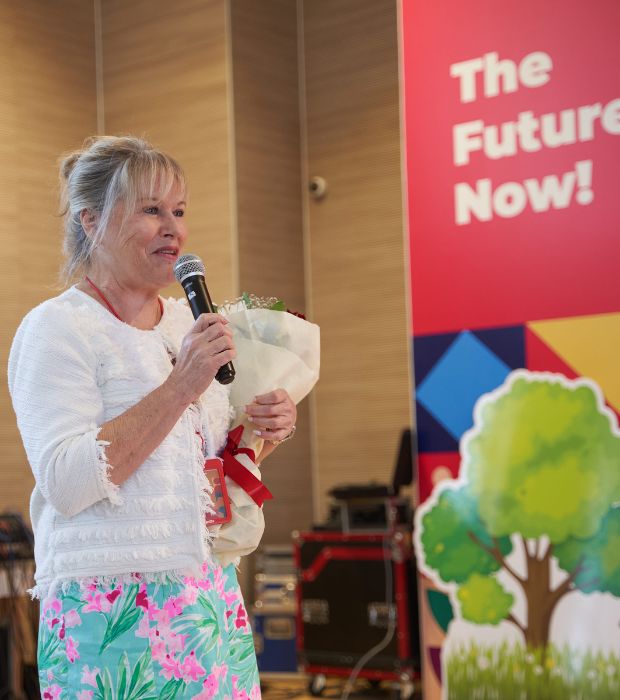 A Welcome Message from our Head of School
Ms. Catherine Spencer
Dear GISC families,
What a joy it is for us to welcome all of you, new and old, to school year 2023-24 at GEMS International School Cairo. In our second full year of operation, we have doubled our enrollment to nearly 650 students! With this growth comes continued refinement of school logistics and we very much appreciate your patience and flexibility as we review daily the best ways to ensure our students and families are safe and secure. This year our students represent an increasingly diverse group from nearly twenty different nationalities, many recently relocating to Cairo from their home countries. May we all embrace each member of our school family, many of whom have left behind very traumatic difficulties in their home countries. Our GISC mission supports both the academic and emotional growth of our students, and we all share in this mission.
Our new faculty members share a wide range of international experience coming to us from teaching and leading international schools in China, Sudan, Vietnam, Indonesia, South Korea. The educational staff represents many different nationalities (Egypt, UK [England and Scotland], US, Sudan, Germany, Russia, Ukraine, Azerbaijan, South Africa, Lebanon) and they bring a wealth of educational and cultural backgrounds to GISC.
We have also achieved two significant milestones this past summer as we aspire to provide the best in GEMS and IB education for our families. After our Cognia review visit in May, we received full accreditation and were honored with a School of Distinction recognition for outstanding educational provision for our students including program, teaching and learning, facilities, and resources. We all deserve to celebrate this achievement after only one year of operation!
In August, we received official confirmation of International Baccalaureate Programmes Diploma candidate status. This puts us on the path to successfully open the IBDP to students in Grades 11 and 12 from 2025. As the gold standard for secondary schools and college admissions, GISC is proud to enter this phase of our IB journey.
Our official site visit dates for both PYP and MYP are now confirmed for October 29 and 30 (MYP) and November 6 and 7 (PYP). We truly look forward to welcoming IB visitors to our very special learning environment, and we will be requesting some parents to serve as GISC representatives in dialogue sessions with the visitors.